RULES

2nd WORLD PHOTOGRAPHERS CIRCUIT 2023 FOR WPU
INTERNATIONAL EXHIBITION OF PHOTOGRAPHY
Conditions of Entry(參賽規則)
Summary(概要)
1、EXHIBITION NAME(比賽名稱):
2nd WORLD PHOTOGRAPHERS CIRCUIT 2023 FOR WPU
2023第二届WPU世界攝影家巡迴賽
2nd WORLD PHOTOGRAPHERS CIRCUIT 2023 FOR WPU exhibition is with the patronage of the and conducted under the approved rules of the WORLD PHOTOGRAPHY UNION(WPU[2023]006),All awards and acceptances obtained in this salon All of them will be included in the WPU effective points, and can obtain the WPU honor and Distinctions.
2023第二届WPU世界攝影家巡迴賽由世界攝影聯盟(WPU[2023]006) 認證並在其準予的規則下進行,在此沙龍的所有獲獎和入圍作品,都將被納入WPU有效積分,並可獲得WPU的榮譽和名銜。
The Circuit is open to Photographers all over the world. This is a digital image Circuit.
這是一個數碼攝影巡迴賽,該比賽向全世界的攝影師開放。
2、CORRESPONDENCE & ENQUIRIES TO(联系):
ORGANIZER(主辦單位)
World PHOTOGRAPHY Union of Hong Kong(WPU)/ 世界攝影聯盟
Jing-Chen PHOTOGRAPHY Center of China(JCPC)/ 中國吉首晶宸攝影中心
HUANGJIU Photo Painting of China(HJPP)/中国凰九影画
Exhibition Chairman :Mr. Li Chen.
7-302# Xiangzhou Sunshine Community, Century Avenue, Jishou City, Hunan Province, China
Chairman Email: 732710600@qq.com
Exhibition Email: cipa-photo@qq.com
Phonenumber:13574336633
Salon Secretary : Yuanjun Yang
Salon Treasurer : Yanfeng Liao
Rules & Submission: http://www.wpu-photo.org/wpu/
沙龍官網:http://www.wpu-photo.org/wpu/
3、SECTIONS(组别)X 2 :
1)Art Color Digital (ACD)藝術彩色組(Only Color-僅彩色)
2)Art Mono Digital(AMD)藝術黑白組(Only mono-僅黑白)
3)Record Human Digital(RHD)記錄人類組(Color/Mono-彩色/黑白)
4)Record Nature Digital(RND)記錄自然組(Color/Mono-彩色/黑白)
5)Unlimited Digital(UD)無限制組(Color/Mono-彩色/黑白)
4、PHOTOS SIZE(作品規格)
File: Maximum 1920 pixels on the horizontal side, Vertical size maximum 1080 pixels,Maximum 2 MB, JPEG, RGB/sRGB,Resolution: 72-300 dpi .
作品必須為jpg檔案格式,最大水准長度1920點數/最大垂直長度1080點數(1920 × 1080),單幅作品的文件大小不得超過2MB,顏色:RGB / sRGB,分辯率:72-300 dpi。
Each entrant may submit a maximum of four images in each of the 5 sections.
每位參賽者最多可在5個組中的每一組提交四張作品。
5、ENTRY FEES (報名費)
All Section 0(Free of charge)免費
6、CALENDAR(日程):
Closing Date(截稿): Jan. 10,2023(2023 / 01 / 10)
Judging(評選): Jan. 05-10,2023(2023 / 01 / 15-20)
Notification emails sent(結果通知): Jan. 15,2023(2023 / 01 / 30)
On-line gallery(線上展覽): Jan. 20,2023 (2023 / 01 / 30)
Catalogues & awards sent(目錄/頒獎): Feb. 30,2023 (2023 / 02 / 30)
Due to the current global epidemic, most of the international postal lines are closed, we will wait for the postal lines to open before mailing the medals.
7、JURY(评委):
① Salon 1
CHEN LI(WPU/c1,MWPU/g,QPSA,CPA)(China)
CHUNLIN ZOU(WPU/c3,MWPU/b)(China)
YUXUAN CHEN(GCWPU/1,CIPA)(China)
② Salon 2
YAN LONG(GCWPU/1,MWPU/s,CPA)(China)
POPO PENG(WPU/c3,MWPU/b,QPSA)(China)
YUANMENG CHEN(WPU/c3,MWPU/b,QPSA)(China)
8、AWARDS (獎項):210+
The awards will be adjusted in proportion to the total number of participating images. New images are encouraged to enter. Acceptance range is 50%.
獎項將根據來搞總數按比例進行調整。 鼓勵新作品投稿。 入圍率50%。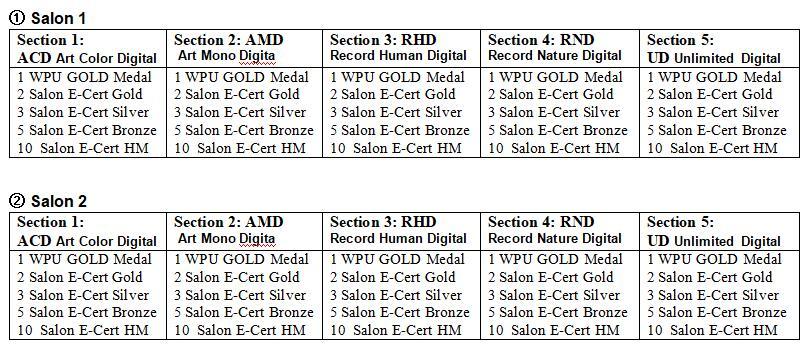 9、CATALOGUE and E-Cert (目錄和證書):
Online PDF Catalog(Downloadable)
線上PDF目錄(可下載)
After the results of the Circuit are announced, all contestants are asked to log on to the website to download the E-Cert. The E-Cert is only kept on the website for one year.
比賽結果公佈後,請各位參賽者自己登錄網站下載證書,證書在網站只保留一年。
CONDITIONS OF ENTRY
ENTRIES
IMAGE AND ENTRY REQUIREMENTS This exhibition is open to anyone; however, an entry may be rejected when the Sponsor or the Exhibition Organizers, in their reasonable discretion, believes the entry does not conform to exhibition rules and these Conditions of Entry. Membership in any photographic organization is not required.
Image Creation
Entries must originate as photographs (image-captures of objects via light sensitivity) made by the entrant on photographic emulsion or acquired digitally.
Certification:
By virtue of submitting an image, the entrant certifies the work as his or her own. Images may not incorporate elements produced by anyone else (for example: clip art, images or art by others downloaded from the Internet). Aliases are not allowed.
Reproduction
The entrant permits the sponsors to reproduce all or part of the entered material free of charge for publication and/or display in media related to the exhibition. This may include low resolution posting on a website. The World photography Union (WPU) may request specific permission from entrants to reproduce entered images in its educational materials. The terms of that permission will be mutually agreed between the entrant and WPU except in the circumstances where the entered image is found to breach the WPU Ethics Policy. In those circumstances the image may be reproduced by WPU, without the entrant''s further permission, for educational purposes to illustrate serious exhibition rule violations. For those reproductions, the entrant''s name will be withheld.
Entries will not be accepted from entrants who indicate that their images may not be reproduced in materials related to the exhibition." The exhibition assumes no liability of any misuse of copyright
Alteration and Computer Generation Subject to Divisional restrictions (particularly Record Human Digital and Record Nature Digital) images may be altered, either electronically or otherwise, by the entrant; adjustments to enhance images or creatively modify images are allowed providing the underlying photograph is retained in a way that is obvious to the viewer. Images may not be constructed entirely with a computer, and must be the sole work of the entrant
Entry: An Entry consists of, up to and including, four (4) images entered by a single entrant into the same Section. An entrant may only enter a specific Section once. Entrants may not enter identical or similar images into the same section or different sections of the same exhibition.
Color and Monochrome images from the same capture that share substantial pictorial content in common will be considered the same image.
Method of Judging:The selection of accepted images will be conducted online through the competition website "http://www.wpu-photo.org/wpu/".It is required that the monitor of each judge must go through standard color calibration and have a resolution of not less than 1920X1080pix to ensure that the image can be displayed on the screen 100%.Also photos will be published in http://www.wpu-photo.org/wpu/.
DATA PROTECTION
By entering this exhibition, you are explicitly consenting to the personal details you have supplied, including physical addresses, email addresses, being held, processed and used by the exhibition organizers for purposes associated with this exhibition. You also explicitly consent to such information being sent to organizations that have accorded official recognition, patronage or accreditation to this exhibition. You acknowledge, agree and accept that by entering this exhibition, your participation status which includes your first and last name, name of the country used during registration at the exhibition, number of sections entered and number of photos entered in those sections will be made public in a published status list and that the results of your entry shall be made public in exhibition gallery, exhibition catalog. You also agree and accept the policy regarding Breaches of Rules of the WPU.
SUBJECT MATTER AND SECTION DEFINITIONS
Statement on Subject Matter - applicable to all sections
The fundamental rule that must be observed at all times and applies to all sections offered in exhibitions with WPU recognition is that the welfare of living creatures is more important than any photograph. This means that practices such as baiting of subjects with a living creature and removal of birds from nests, for the purpose of obtaining a photograph, are highly unethical, and such photographs are not allowed in any exhibition with WPU recognition. Under no circumstances may a living creature be placed in a situation where it will be killed, injured or stressed for the purpose of obtaining a photograph. Images that show live creatures being fed to captive animals, birds or reptiles are not permitted under any circumstances.
There are also concerns about the use of aerial photography, drones, helicopters, low flying aircraft. These should not cause any interference with other individuals or animals which causes a disturbance in their normal activity or disrupt the way any individuals or animals interact with their environment. Entrants in PSA recognized exhibitions should comply with all relevant laws and regulations, associated with aerial photography, in the country in which the image was taken.
Entry into WPU recognized exhibitions is conditional on accepting these policies. The content of images must comply with the General Conditions and with the Division and Section definitions listed in these conditions. Images that - in the sole opinion of the judges or the Exhibition Organizers - do not comply, will be disqualified so the entrant may be aware of the problem when considering entry into other exhibitions with WPU recognition
WPU Email
Participants who register for any WPU-certified contests website must use the same and unique name and e-mail address. Participants with the same Given Name and the same Family Name can register, but we are distinguished by different mailboxes. If the same entrant uses a different name or uses the same name but uses a different email registration, we think it is a different entrant, the photographer,s points will be calculated separate, please be careful!
WPU Distinctions
WPU photographers are classified into 15 grades of Stars Rating(SWPU), Blue Crowns(BCWPU), Gold Crowns(GCWPU), etc. Participate in the WPU-certified Contests, 9 points for each medal and 7 points for each HM,Acceptances 5 points per image.You can win the corresponding bonus by winning the title of "Blue Crowns" and "Gold Crowns", but you must apply to WPU and receive it after passing the examination.photographers are not allowed to use the same image to participate in the same contests of each year.For details, please refer to:https://www.wpu-photo.org/ .
Record Human Digital and Record Nature Digital:
Allowed editing techniques:
· Cropping, straightening and perspective correction. Removal or correction of elements added by the camera or lens, such as dust spots, noise, chromatic aberration and lens distortion.Global and selective adjustments such as brightness, hue, saturation and contrast to restore the appearance of the original scene.Complete conversion of color images to grayscale monochrome.Blending of multiple images of the same subject and combining them in camera or with software (exposure blending or focus stacking);Image stitching – combining multiple images with overlapping fields of view that are taken consecutively (panoramas);
Editing techniques that are not allowed:
· Removing, adding to, moving or changing any part of an image, except for cropping and straightening.Adding a vignette during processing.
· Blurring parts of the image during processing to hide elements in the original scene.
· Darkening parts of the image during processing to hide elements in the original scene.
· All conversions other than to complete grayscale monochrome.
· Conversion of parts of an image to monochrome, or partial toning, desaturation or over-saturation of color Is not allowed.
For the purpose of this exhibition any border added to a digital file must be a single border of white or grey, no greater than 3-5 pixels in width.
Attention is drawn to the WPU Statement on Subject Matter which applies to all sections
WPU Art Color Digital Definition(ACD)藝術彩色組定義
The world we see with the naked eye must be colored, and images taken by special scenes or special lenses are not considered here. The image is required to have performance, interpretation, creativity, innovation, etc. for color.
我們以肉眼為標準看到的世界,必須是有顏色的,特殊場景或特殊鏡頭拍攝的影像不在此考慮。 要求影像對色彩或有表現、詮釋、創意、創新等。
WPU Art Mono Digital Definition(AMD)藝術黑白組定義
An image is considered to be Monochrome only if it gives the impression of having no color (i.e. contains only shades of grey which can include pure black and pure white) OR it gives the impression of being a greyscale image that has been toned in one color across the entire image. (For example by Sepia, red, gold, etc.) A greyscale or multi-colored image modified or giving the impression of having been modified by partial toning, multi-toning or by the inclusion of spot coloring does not meet the definition of monochrome and shall be classified as a Color Work.
For the purpose of this exhibition, only greyscale images are allowed in monochrome sections. Toned images are not allowed
Editing Guidelines
Processing or editing must be limited to making the image look as close to the original scene as possible, except that conversion to grayscale monochrome is allowed.
只有當影像給人的印象是沒有顏色(即僅包含灰色陰影,可以包括純黑色和純白色)時,才認為影像是單色的,或者它給人的感覺是灰度影像,在整個影像中以一種顏色色調。 (例如,深褐色、紅色、金色等)灰度或多色影像經過修改,或給人以通過部分色調、多重色調或包含專色進行修改的印象,不符合單色的定義,應歸類為彩色作品。
在本次展覽中,單色部分只允許使用灰度影像。 不允許使用彩色影像。 處理或編輯必須限於使影像看起來盡可能接近原始場景,除非允許轉換為灰度單色。
WPU Record Human Digital Definition(RHD)記錄人類組定義
Record Human Digital entries are images with informative content and emotional impact, reflecting the human presence in our world.
·The impact story-telling value of the image should receive priority over pictorial quality.
·Images that misrepresent the truth, such as those from events or activities arranged specifically for PHOTOGRAPHY, or of subjects directed or hired for PHOTOGRAPHY, are not eligible.
·A number (typically 2-6) of images may be combined into a single image that depicts a progression of events. The individual images should be surrounded by 5 pixel or smaller white borders. The arrangement of the images should assist the sense of progression.
記錄人類攝影是具有資訊內容和情感影響的影像,反映人類在我們世界中的存在。
·圖片故事價值應高於圖片質量。
·歪曲事實的影像,例如專門為攝影而安排的活動或活動,或為攝影而指導或雇用的對象的影像,都是不合格的。
·可以將多個影像(通常為2-6個)組合成一個描述事件進展的影像,影像的排列應具有邏輯性,每幅影像周圍應為5點數或更小的白色邊框。
WPU Record Nature Digital Definition(RND)記錄自然組定義
· Nature photography records all branches of natural history except anthropology and archaeology. This includes all aspects of the physical world, both animate and inanimate, that have not been made or modified by humans.
· Nature images must convey the truth of the scene that was photographed. A well-informed person should be able to identify the subject of the image and be satisfied that it has been presented honestly and that no unethical practices have been used to control the subject or capture the image. Images that directly or indirectly show any human activity that threatens the life or welfare of a living organism are not allowed.
· The most important part of a Nature image is the nature story it tells. High technical standards are expected and the image must look natural.
· Objects created by humans, and evidence of human activity, are allowed in Nature images only when they are a necessary part of the Nature story.
· Photographs of human-created hybrid plants, cultivated plants, feral animals, domesticated animals, human-created hybrid animals and mounted or preserved zoological specimens are not allowed.
· Images taken with subjects under controlled conditions, such as zoos, are allowed.Controlling live subjects by chilling, anaesthetic or any other method of restricting natural movement for the purpose of a photograph is not allowed.
·自然攝影記錄了除人類學和考古學之外的所有自然歷史分支。 這包括物質世界的所有方面,無論是有生命的還是無生命的,都不是人類創造或改造的。
·自然影像必須傳達拍攝現場的真實情况。 一個消息靈通的人應該能够識別影像的主題,並確信影像是真實呈現的,並且沒有使用不道德的做法來控制主題或拍攝影像。 不允許直接或間接顯示任何威脅生命或生物體福利的人類活動的影像。
·自然影像最重要的部分是它講述的自然故事。 要求高技術標準,影像必須看起來自然。
·只有當人類創造的物體和人類活動的證據成為自然故事的必要部分時,才允許在自然影像中出現。
·不允許拍攝人類創造的雜交植物、栽培植物、野生動物、馴養動物、人類創造的雜種動物以及已安裝或保存的動物標本的照片。
·允許在受控條件下拍攝對象的照片,例如動物園。 不允許為了拍照而通過冷凍、麻醉或任何其他限制自然運動的方法來控制活體對象。
WPU Unlimited Digital Definition(UD)無限制組定義
The shooting and production techniques and post production forms are not subject to any restrictions, but the performance content must comply with local laws, ethics and folk customs.
拍攝製作技法和後期形式不受任何限制,但表現內容必須遵守當地的法律、道德規範和民間習俗。